An interview about digital dental technologies with Sydney-based dentist Dr Christopher Ho. by Brendan Day. This article was originally published by 3Shape, Denmark: www.3shape.com
Dr Ho, could you please tell us about how you became a practitioner of digital dentistry?
I've been in practice for more than two decades, and when I started, dentistry was definitely more analogue- based. Impressions, for example, were made using substances like alginate and silicone—materials that are still used by dental practices, but which can cause patient discomfort and distress. The digital journey started with the introduction of digital came-ras, radiographic imaging and CAD/CAM dentistry, which changed the landscape of dentistry. The introduc-tion of intra-oral scanning, or what many call "digital impressions", really was a complete change in my approach to prosthodontics and has been one of the best technologies introduced in my practice.
When were you first introduced to 3Shape's portfolio of dental solutions?
My journey with 3Shape started with intra-oral scanning with TRIOS around 2014. TRIOS was relatively new at the time, particularly in Australia, and the technology was very exciting. To be able to take impressions digitally rather than physically with such ease and accuracy was amazing. I've continued to be a proponent of digital dentistry as it has advanced in the years since, and it is absolutely pivotal to the work we do here at Care Dentistry.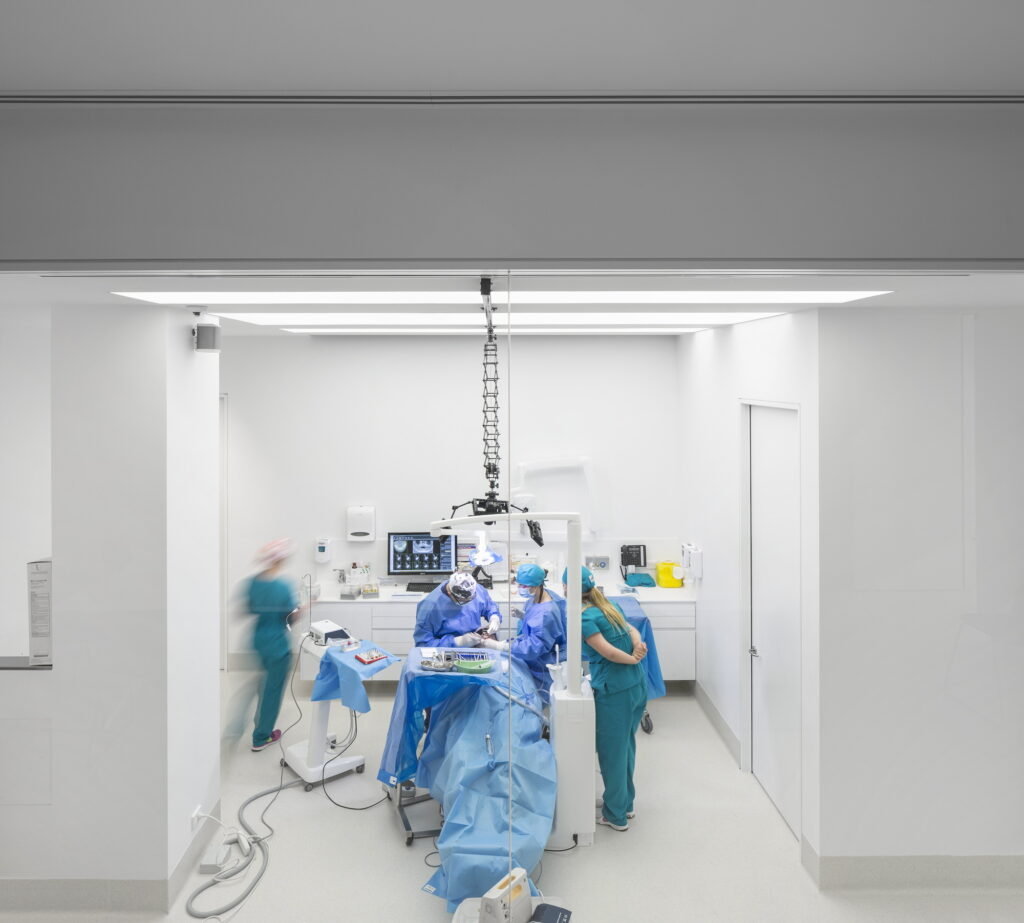 What is the learning curve like for 3Shape's digital solutions?
One of the great things about 3Shape products is their user interface. These interfaces are almost always de-signed to be as intuitive and clean as possible, and as dentists very often have limited time, the ability to jump in and start using a piece of digital software with very little training is a clear advantage.
What benefits does digital technology bring for patients?
As a dentist, I can easily visualise the final result of a course of treatment. From a patient's point of view, this is, understandably, often not possible. When applications like 3Shape Smile Design are used, a patient is able to see a simulated demonstration of what his or her teeth will look like after treatment. This can help patients decide whether or not they want to proceed with treatment. It also pro-vides an emotional connection for patients, particularly if they are undergoing aesthetic dental procedures, making it easier for them to give in-formed consent as they can visualise the intended changes.
Have patient expectations changed regarding digital dentistry? Are they more aware of what tools and technologies are available?
In this digital age, there is certainly a growing awareness among patients that dentists are now able to show them what their teeth will look like after the course of treatment. From a dentist's perspective, digital dentistry will set you apart from others —the ability to simulate images and show patients how treatment can benefit them can, ultimately, lead to a greater sense of trust. Digital impressions provide a much better experience for our patients, and no longer do they have to suffer the use of physical impression materials which can be uncomfortable and cause gagging. Along with the improvement in efficiency and ease of use, the majority of dentists that em-bark on a digital workflow enjoy the advantages of intra-oral scanners.
What is the attitude of other dental professionals at your practice when it comes to integrating digital dentistry? Are there any generational differences?
I think it's fair to say that the younger dentists in my practice are generally extremely tech-savvy and adopt digital technologies very readily. For the older dentists, it did some- times take them a little bit of time to familiarise themselves with tools such as intra-oral scanning, but once they were comfortable with them, it created a major transformation in what they could offer patients, and they haven't looked back since.
What role does digital technology play in your practice's everyday workflows?
We take pride in being a state-of-the-art practice and in delivering the best treatment that we possibly can for our patients. Part of what we offer, then, lies in having the best products and the most technologically advanced equipment, and this is where 3Shape really offers us benefits. A large part of digital dentistry for me involves using 3Shape's work-flows. This means using 3Shape TRIOS MOVE, for example, to conduct intra- oral scans of the patients, which can then be placed in a virtual articulator to simulate jaw movements. I can then communicate with our in-house dental laboratory by using these 3Shape scans to plan cases more accurately and, ultimately, successfully. When everyone can see the same digital scans, it allows for better communication and planning.
Which other 3Shape products does your practice use and for what purposes?
As I mentioned, I use the 3Shape TRIOS MOVE but I also employ the TRIOS Patient Specific Motion tool to better understand how my patients function with their teeth. Just recently, I had a patient referred with significant temporomandibular jaw problems after recent restorations. To investigate the underlying problem, I manually checked occlusion but was unable to see exactly what the issue was. With the TRIOS Patient Specific Motion tool, I could actually see quite clearly where the interferences in the bite were, and thanks to the increased accuracy of this technology, I was able to alleviate the problem by careful re-moval of the iatrogenic interferences.

The Smile Design app is another handy tool from 3Shape that I use quite frequently. It allows me to show patients what their smiles will look like after treatment, and it's so quick and easy to use that, when I de-monstrate it in front of a patient, he or she can instantly grasp how to use it and can then play around with it and compare the before and after mock-ups.

TRIOS Patient Monitoring has been another useful tool with the ability to show patients the difference between scans taken over a period of time. We can demonstrate tooth wear, gingival recession and even the effect of augmentation with soft- or hard- tissue grafts.